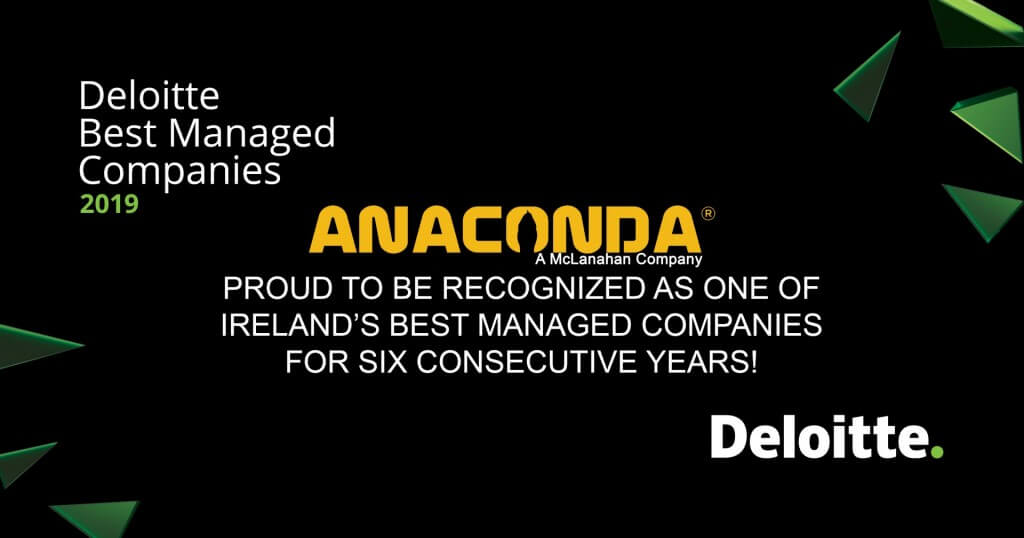 Anaconda announced as one of Ireland's #BestManaged Companies with Deloitte Award for the sixth consecutive year!
Anaconda Equipment has been named as one of Ireland's Best Managed companies in the Deloitte Best Managed Companies Awards programme, in association with Bank of Ireland. The company, which demonstrated superior business performance for the sixth year in a row, was recognized at a gala awards dinner in Dublin on 1 March 2019.
This year, 12 new companies join a network of 136 companies that were awarded the status of Best Managed. The Best Managed Companies network this year has total revenues of almost €11 billion, export sales of almost €3 billion and total employment of approximately 44,000 people.
Commenting on the award, Alistair Forsyth, Group President and Managing Director said:
"Being recognized by Deloitte once again this year as one of Ireland's Best Managed Companies as we re-qualify for the 6th year in a row is a testament to the hard work the entire team at Anaconda put in day after day.  They say it takes a strong and disciplined army to win a war, that couldn't be more true, and it's the Anaconda teams continued diligence and focus on customer support and service that has us winning the proverbial war and growing from strength to strength each year.   Great work by all and I look forward to seeing what we can achieve in the coming year."
Tom Hayes, Chief Executive, Bank of Ireland Corporate Banking said: "It's a challenging time for businesses in general, with the operating environment consistently and rapidly changing, due to technological developments, new ways of doing things, and challenges on the macroeconomic horizon. The Best Managed Companies this year have demonstrated that they can optimise each area of their business while always operating with an acute awareness of their environment, recognising the opportunities of expansion into global markets, in addition to strategic alliances and partnerships. I look forward to their continued growth."
This year's judging panel members were Frank Ryan, Chair of the Judging Panel; Brendan Jennings, CEO, Deloitte Ireland; Tom Hayes, Chief Executive, Bank of Ireland Corporate Banking; Siobhan McAleer, Commercial Director at the IMI; Rose Hynes, Chairman of the Shannon Group Board and Origin Enterprises; and Feargal Mooney, former Chief Executive Officer of HostelWorld.
This achievement really does speak volumes but it is testament to the work that goes on behind the scenes by our dedicated team, without which none of this would be possible. This award is raw evidence that year-on-year we are continuing to expand in terms of our product offering, markets we explore and our skilled workforce of employees. We are only getting started and will continue to grow, together.