ConExpo 2020
Anaconda is once again thrilled to announce we will be exhibiting at ConExpo in March at Las Vegas, Nevada. This is the Largest Construction Trade Show within North America and serves as an excellent platform to engage with our industry as the show brings manufacturers, dealers, suppliers and end users together.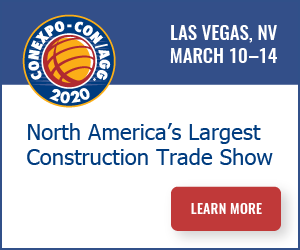 Following successful shows at ConExpo in 2011, 2014 and 2017 Anaconda are excited to see what 2020's show has in store. From Anaconda's continuous growth over the years we have established a great reputation within the market, especially in the United States following the opening of our distribution centre in Massachusetts. This year we will be showcasing our latest range of innovations for the material handling sector such as Scalping Screens and Finishing Screens, We also have something special up our sleeves that is set to shake the market and we look forward to sharing this with you all at ConExpo 2020!
If you are also attending ConExpo, make sure to include us in your schedule and visit us at stand C31875. 
In order to find out about our entire range of screening, scalping, trommel screens, mobile conveyors and feeding conveyors or to arrange a meeting at ConExpo 2020 then please complete the form on the right and we will get in touch to get this organised.
We look forward to giving you all a great Anaconda welcome at Las Vegas in March.
Show Details
Show Opening/Closing Hours
Tuesday-Friday : 9am – 5pm
Saturday : 9am – 3pm
Website
Show Location
Las Vegas Convention Center, 3150 Paradise Rd, Las Vegas, NV 89109, USA
Click the button below to view our extensive product portfolio: